Guess what?!? If you stick around til (or at least come back at) 9PM (EST) tonight, we're gonna be posting a giveaway for a Disney Cruise!! Yep. Just in time for summer vacation, Mommy and We has teamed up with American Family, Acadiana's Thrifty Mom and several other awesome bloggers to bring you a chance to win a Disney Cruise for a family of 4. That's a value of up to $3000!! So stay tuned…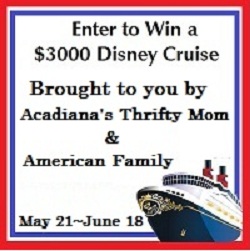 See the great things you can know about early if you're subscribed to our newsletter? Or even if you're a fan of our Facebook page??? What're you waiting for?
*This post may contain affiliate links. Clicking costs you nothing, but helps to support Mommy and We. Thank you!